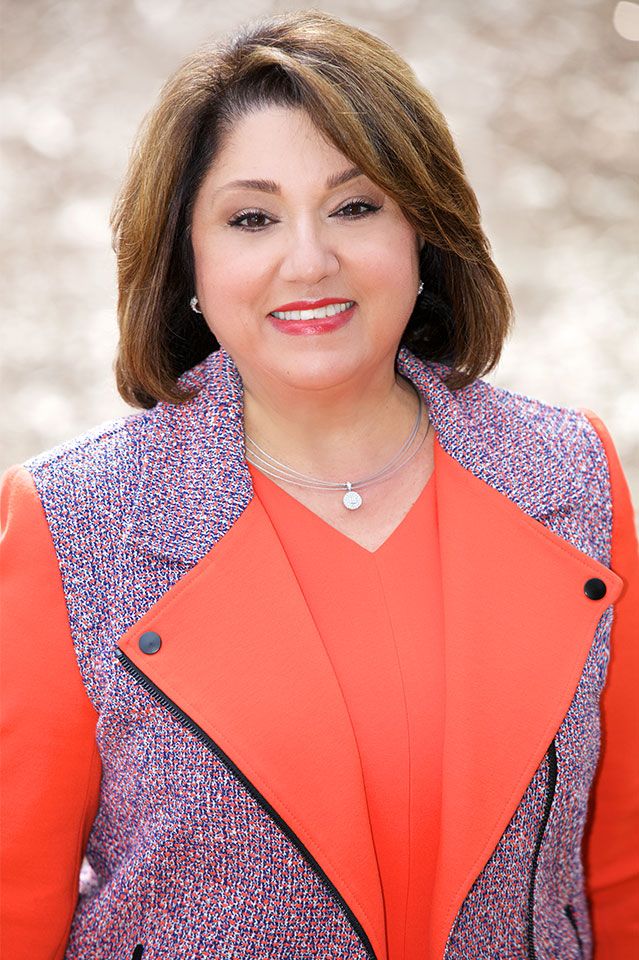 Recognized as one of San Diego's leading real estate agents, Neda Nourani has over 15 years of experience in the industry sharing her first-hand knowledge of the market and expertise of the surrounding communities with her valued clients. The recipient of many awards and honors, including the coveted 5 Star Realtor Award every year since 2010, and "Recognition of Excellence by San Diego Association of Realtors," Neda ensures each transaction, whether for the first time buyers or seasoned homeowners, is handled with dedicated professionalism and personalized guidance so they can move on to the next chapter of their lives.
"I place the needs of my clients and their satisfaction above all else. I recognize that buying or selling a home is a big life decision and can often be overwhelming. My priority is to make this time as stress-free as possible while delivering top service."

A San Diego resident for over 40 years, Neda is a sought after neighborhood expert for the North County coastal communities of Encinitas, Leucadia, Olivenhain, Carlsbad, Solana Beach, Cardiff by the Sea, and Del Mar. She also has extensive experience in La Jolla, Rancho Santa Fe, Carmel Valley, and downtown San Diego.
Through her resources and personal network of contacts, Neda has acquired a loyal following of international and local buyers seeking investment properties, vacation homes, primary residences and land for those building their dream house.

Neda's clients strongly believe that her excellent negotiation skills, positive energy, and natural professionalism always represents their best interests while achieving great results.

Neda has been married for over 36 years to her husband who is a product director at ViaSat. They have two adult children who attended North County schools, and after college graduation have successful careers in Los Angeles.
"Whether she is purchasing a home with you, or selling your home, she is so knowledgeable, patient, diligent, honest, trustworthy, and knows how to get you through every step of the process smoothly and successfully. Neda puts her heart and soul into her business and her clients and just has a way of "knowing" what her clients' needs are. In addition, she does whatever is necessary to meet those needs and does it with such integrity and poise. It is so evident that she truly cares about her clients. It has been a privilege to have Neda as my agent in the many transactions she has represented me and my family in over the past 8 years. I have such respect and immense gratitude for all that she's done and would HIGHLY recommend her to anyone that wants their real estate experience to be a positive one!"
by Sara Lehman, Carlsbad
"We just sold our home in Encinitas with Neda. She was the fifth realtor we interviewed and are we glad we did! She works around the clock and always answered our calls. Her team expertly staged and photographed our home, got us multiple offers, and we were in escrow in six days above our asking price, which was higher than any of the other realtors would even consider. Most importantly she's supportive, resourceful, professional and just a really great person- you can trust her."
by Lorraine Pope, Encinitas, CA
"Neda is extremely knowledgeable, extremely attentive and went out of her way to find possible houses for us. During our search, Neda was always ahead of the curve in sending us new properties and ultimately found the exact type of house we had been looking for. The escrow proved to be difficult, but throughout the entire time she treated us as though we were the only clients she had (which is clearly not the case) and fought for us at every step. As a result of her tenacity and knowledge, we just recently closed on our dream house. Neda's dedication, willingness to take the time to inform her clients about ongoing issues and her general ability to navigate tough situations all make her a cut above in the real estate business. We would use her again in a heartbeat."
by Nowell Lantz, Encinitas
"Neda is extremely professional, knowledgeable and hardworking (an understatement). She is well connected and well respected by her peers, an important attribute when you're dealing with banks, sellers, listing agents or find yourself involved in a bidding war. And one thing you know with absolute confidence after working with her is that Neda puts her clients' needs first. She never hesitates to pick up the phone immediately, whether it's to answer a question or to get things straightened out if there's even a hint of something being off track during the entire process. She also knows all the best pros in the industry. The only thing I wish Neda would do differently is not work so hard. Just for her own sake. She literally is always working, 24/7, but in the real estate world, that's what it takes if you really want to be at the top of the game, and Neda is. You can ask anyone who's worked with her, I'm sure you'll hear the same. We all know that you are in the very best hands and never have to worry about anything falling through the cracks with Neda at your side."
by Penny Houle, Carlsbad
"We just finished selling a home in Carlsbad with Neda as our Realtor, and I have to say - Neda has redefined for my wife and me what a good Realtor is! We've bought and sold a few homes, so we're no stranger to the process, but with Neda you just get a much higher level of service. Neda has an amazing amount of information about the areas she sells in. She knew information about other sales in the neighborhood that would never be on an MLS listing. It's like insider info and that really helps when she's representing your best interests. Obviously, the team that works with her is top notch too. Between Neda and her assistants, we never had to call with questions because there was a constant stream of information coming to us almost daily through the process. We had not experienced this with any other Realtor we'd worked with in the past. Their depth of experience really shows. They were actually answering questions and concerns before we could even bring it up with them. Neda really does care about the people she's working with and she was excellent at setting expectations as well as going above and beyond. For instance, our home we sold with Neda is the most that our model has ever sold for in our community, and that was with multiple other competing properties and even a lowball short sale. We had multiple offers and were overwhelmed with everything, but Neda handled it all like a seasoned pro. It was absolutely because of her that we got what we did, and how smoothly things went. Neda is the only Realtor I'd ever refer to friends and family."
by Steve Danielson, Carlsbad
"I was a first time home buyer and Neda not only educated me on the process but counseled me throughout the home buying steps. She assisted me in identifying what my actual needs were, what I wanted and where I should focus my search, she helped me stay true to what I wanted and suggested ideas I would have never thought of based on the information she gathered from me. Neda was more than a business partner, she was a mentor and a trustworthy, reliable counselor every step of the way - she offered her advice when I requested it and allowed me complete freedom in the decision making process. Neda is patient, genuine, and passionate about the value of home ownership, I highly recommend her service whether you are a first time buyer or a an investor, she knows the market better than anyone and will take the very best care of her clients from beginning to end and beyond. "
by Sara Fraschetti
"Neda is simply amazing. I had watched for a number of years Neda's listings in Leucadia and it quickly became clear she knew the market inside and out. I also had the chance to see how other agents engaged with her during caravan open houses, which was so telling in terms of how she has built relationships and how others have had such great experiences working with her. Neda graciously put up with my husband and me for well over three years while we struggled with the decision to sell and buy. She willingly took us to houses that she knew we wouldn't like and she never criticized our skittishness about the whole process. This said mountains about her. And then finally (after her incredible patience with us – any other realtor would have kicked us to the curb), we got the actual experience of what it is like to have her as our listing and buying agent. wow. She anticipates everything and knows how to mitigate issues well in advance. She knew exactly what we needed to do to list our house and get the best possible price and terms (better than anyone could have thought). As a result of her marketing, we had multiple offers over asking price within 2 days of listing. This was not my first set of real estate transactions, but there is no way, with the complexity of the ones in which she represented us and in this current market, would any other agent with whom I've worked been able to deliver what Neda did. Should I be in the place of any real estate transaction in the future, there is no doubt whatsoever that Neda would be our agent! It is pleasure to know her and a pleasure to work with her. Her care and guidance doesn't stop when you are handed the keys. She treats you like family and her list of quality and trustworthy referrals is unbelievable."
by Annamarie Downing, Carlsbad
"After looking for more than a year, we met Neda at an open house, after which she showed us a few houses, all of which were entirely consistent with our specifications for what we were looking for. That alone sets Neda apart - so many real estate agents wanted to show us product that they want to sell, rather than what we wanted to buy. She found us the home that we recently purchased, and helped us sell our previous house, all in the week before we headed off to Europe for a month. Our departure placed an immense load on Neda and her team, but she took it all in stride. Real estate transactions are complex, but Neda made sure we understood what we needed to know, and when we didn't, she explained the issues clearly and patiently. This is the fifth house I've purchased, and Neda stands head and shoulders above any other realtor that I've worked with. She's diligent, knowledgeable, and hardworking, but above all else, she's kind, thoughtful and always supportive."
by Stuart Hepburn, Carlsbad
"Neda has managed two transactions for me and the level of service, professionalism, business acumen, local knowledge and attention to detail has been wonderfully refreshing. Having lived in eight countries and over 24 homes, I have worked with many realtors and none have come close to the level of service that Neda provides. I would not consider using anyone else on future transactions and would recommend Neda to anyone looking for a true partnership...someone who continually goes above and beyond to ensure an exceptional experience."
by Brad Marshall, Del Mar
"We would highly recommend Neda to anyone looking to sell their home. Neda is a very thoughtful, caring person who is a pleasure to work with, and yet is a very professional, serious hard-working agent. She got our house into the market, with a very strong presence, very quickly and efficiently and made us feel like we were her only clients. Things happened fast and Neda brought us the buyer of our home in less than a week! If you hire Neda, be prepared to move!"


Eric & Leeann Pence, Leucadia
"Neda is a wonderful realtor and now friend. Neda was extremely helpful explaining all the details of buying and selling my house. She was there every step of the way with all the ups and downs in the process. I would confidently recommend Neda to all my friends that are interested in selling or buying a home; she was an answer to my prayers and I am a better person knowing her."
Tracey Hagerman, Cardiff By The Sea
"Neda is the best! Selling a home is stressful...Neda made the experience less stressful with her calming ways and expertise. We will refer anyone that we hear needs a great realtor."
Mark & Colleen Scheidler, Carlsbad
"We weren't just another client. Neda treated us like family and made it a personal goal to both find us the perfect home and to sell our home. Neda understood what we wanted in the new home way before we knew ourselves. She knows all the properties in the area and can quickly filter out what's not going to work so that viewings are focused on good candidates. When it comes to selling, Neda's persistence is unmatched. She got the results we wanted in a terrible market and her reach is amazing. People were flying in from other states and even other countries! I recommend Neda wholeheartedly to my family and friends. I've worked with several realtors in the past, and met many more during the buying process, and I really don't think there is a better agent in this area."


Stephen Griffin, Olivenhain
"It was such a wonderful and pleasant experience and felt like Neda was always there when we needed her. She didn't stop when we closed escrow. She continue to help resolve issues that came up after the closing date."
Len & Chris Giuffre, Carlsbad
"From the bottom of our hearts we would like to thank you for all your hard work in finding us a home. You were wonderful every step of the way."
Jared and Chrissy Dudley, Fairbanks Highlands